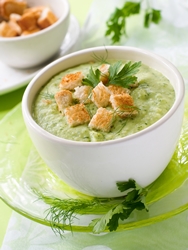 Who you use for your event is just as important as what you order for your event. Our expertise and dedicated staff give you peace of mind and the ability to enjoy yourself. Our desire is to blend your personal style with our culinary excellence and professional service, resulting in an experience that delights all the senses. Our business is creating wonderful celebrations that have panache.
Our foods are prepared fresh daily and sent to various corporate and social event destinations throughout the Greater Sacramento Area. Produce is purchased from local farmer's markets to create our seasonal menus. We take pride in our presentation and attention to detail, as well as our reputation. Client satisfaction is our number one goal, as our patrons affirm.
We invite you to be a guest at your next catered affair and allow us to take the worry out of entertaining. You're in for a pleasant surprise.
Margie Tose, Edible Events Owner and Executive Chef, realized that at age 8 she desired to follow in her mother's footsteps of cooking and baking.    Her mother's creativity and technical skills challenged her to achieve the same skills as her mother. "Gracie" as everyone called her, was known for her legendary,  mouth-watering pies in the small town of Sonoma where Margie grew up. Leaving her small hometown behind, Margie followed her childhood dream by enrolling in The California Culinary Academy.  Working with new ingredients she learned new techniques every day.  Upon her 1983 graduation, Margie accepted employment at Zito's (now Zinfandel Grill) of the Paragary restaurant group.  Her passion for specialty baking, led to her promotion to Pastry Chef. Margie's next career stop was to cook and bake for Sweet Inspirations, a successful, local catering company.  Almost immediately, her responsibilities grew to organizing the kitchen and managing offsite events. The business facet of the company planted a seed for Margie's future goals and plans. After 5 fulfilling years at Sweet Inspirations, Margie returned to the Paragary restaurant group as the Pastry Chef in charge of six locations.  Representing Paragary's on local television cooking segments, Margie helped the group become a household name in the community.  She also was featured in local newspapers and magazines for her cooking skills and recipes. In the summer of 1998, Margie felt it was time to launch Edible Events, after gaining an extensive background in high quality food service.  Launching business with just two employees, Edible Events now employs a terrific staff of 15 talented people.  With 90% of its business being repeat and word-of-mouth clientele, Edible Events has earned a strong foothold in the Sacramento area catering community.
Edible Events head chef, Diedra Stanton is a gifted graduate from the acclaimed California Culinary Academy.  During the first five years after graduating, Diedra worked with James Beard Award winning chef Jamie Shannon at the world famous "Commander's Palace".  She also gained value experience at "Dante's Kitchen" working with the award winning chef, Eman Loubier.  Her experience in Cajun and Creole cuisines is extensive. Diedra's fondness for Pacific Rim cuisine was further enhanced while working in Hawaii.  Her education, career, travels and absorbing the best of life's experiences, have leant themselves to Diedra's expertise in dynamic flavor development, diverse cuisine and vibrant presentations. "I have fond memories of watching my grandmother cook while sitting in the kitchen. I never saw a measuring spoon or cup; her hands were her measuring tools. I learned what real home cooking was from her and my parents." - Diedra Stanton